An R Script to Automatically download PubMed Citation Counts By Year of publication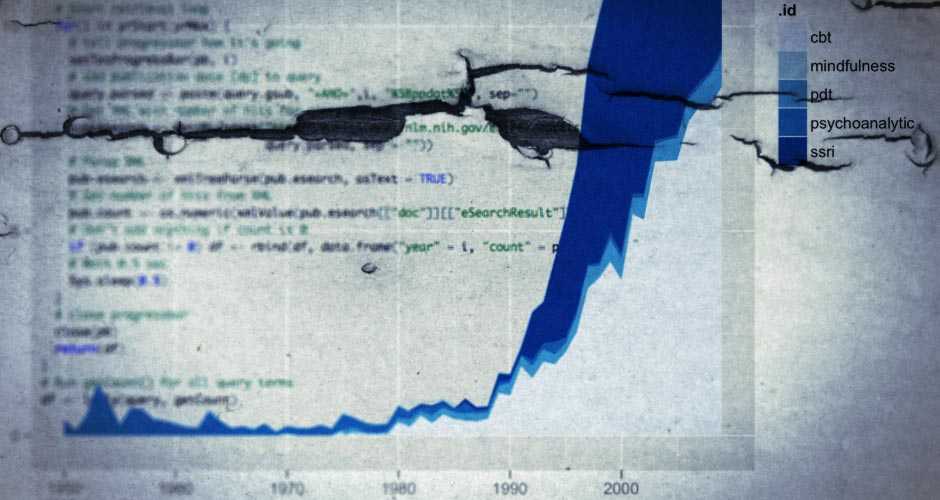 Background
I believe there's some information to be gained from looking at publication trends over time. But it's really troublesome to do it by hand; fortunately it's not so troublesome to do it in R statistical software. Though, data like these should be interpreted with extreme caution.
How the script works
I tried to use the RISmed-package to query PubMed, but found it to be really unreliable. Instead my script is querying PubMed's E-Utilities using RCurl and XML. The E-utilities work like this:
We can see after the URL that I'm telling E-Utilities that I want to search PubMed's database, and retrieve it as 'count'. This will give a minimal XML-output containing only the number of hits for my search term, which is exactly what I want.
That's really the basic gist of what my script is doing. If you look at the code (at the bottom of this post), you can see that I construct the query in the beginning of the script using paste() and gsub(). Then the main part of the script is the for-loop. What it's doing is it's looping through all the years from the specified year range, retrieving the number of hits, and then pasting it together in one data frame. To get counts for a specific year i, I add AND i[PPDAT] (Print Dates Only Tag) at the end of each query.
Since I have all the necessary code in getCount(), I can run the same script for any number of queries using ldply(query.index, getCount). By doing that I end up with a data frame, which contains data for all the queries arranged in long format. The end of the script will calculate relative counts by dividing the matches each year by the total amount of publications that year. I've also added a function that will type out the total number of hits for each query, called PubTotalHits().
Why use Print Dates Only Tag [PPDAT] and not Publication Date [DP]?
The problem with using DP is in how PubMed handles articles. If an article is published electronically in the end of say 2011 but printed in 2012, that article will be counted both in 2011 and 2012 if I search those 2 years individually (which my script is doing).
By using PPDAT I will miss some articles that doesn't have a published print date. If you'd rather get some duplicates in your data, but not miss any citations, you can easily change PPDAT to DP, the script will run the same either way.
A quick example [PDAT] vs [DP]:
To illustrate the differences I did a quick search using a Cognitive Behavioral Therapy-query. When searching with PubMed's website I specified the year range as 1940:2012[DP]/[PPDAT], and used the same interval in R.
The correct amount of hits is 5501 which is retrieved using PubMed's website with the [DP]-tag. It's also the same amount as what would be reported when not specifying any time interval. Consequently, if you use my script with the [PPDAT]-tag you would, in this scenario, be about -2.5% off from the correct amount, and about +3% off from the correct amount if you use [DP]. It's possible that other queries will generate different results. However, the error seems to be so small that it doesn't warrant any changes to the code. Duplicates could be avoided by downloading PMIDS with every search, then checking for duplicates for each adjacent year. Though, that change would require an unnecessary amount of data transfer for an error that appear to be only 3%.
How to use my script
It's really simple to use this script. Assuming you have R installed, all you need to do is download the files. Then point R to that directory and then tell it to run "PubMedTrend.R". Like this:
Once that is done you specify your query like this:
Now all you have to is to execute my PubMedTrend()-function for those quires and save the results in a data frame:
The content of df will be structured like this:
Additional arguments
The default year range is set to 1950–2009, but can easily be changed, like this:
Some notes about using relative values
PubMed's total counts (as posted in a table at their website) hasn't been updated since April 8 2011, but the de facto total values have changed since then, because PubMed is always adding new citations (new and old). This can be remedied easily by looping through 1950[PPDAT], 1951[PPDAT] … 2012[PPDAT] (or you can use [DP]). I did that for you and made a graph of the two data sets, and as you can see there's some differences, but they're not that big. Nonetheless, I've included both files with my script.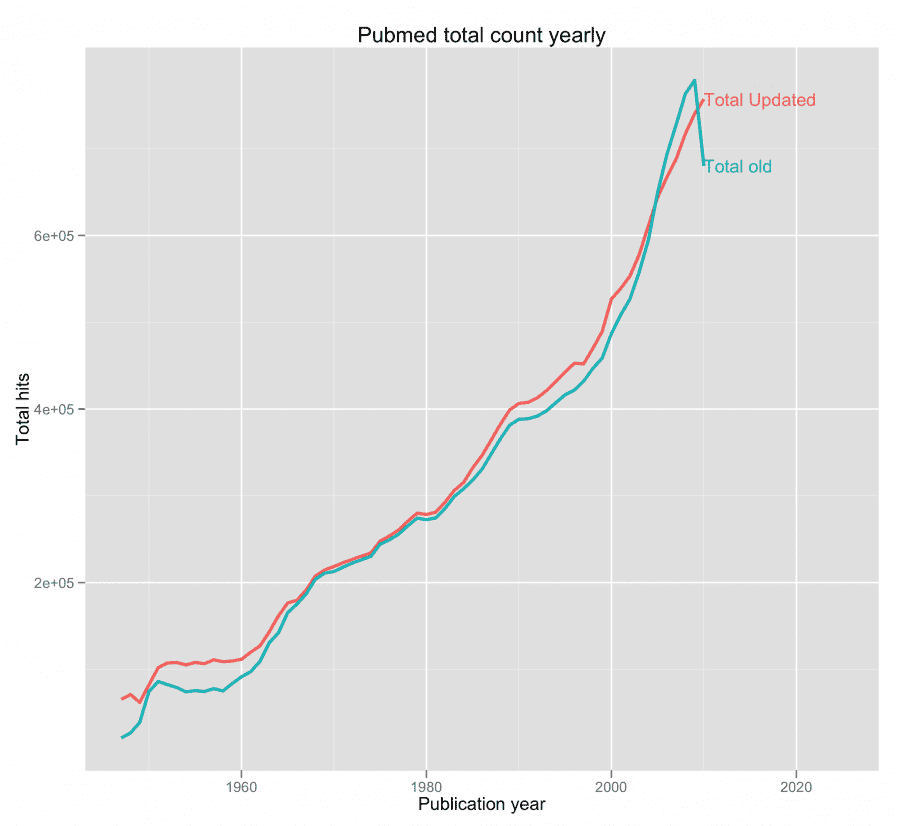 Some example runs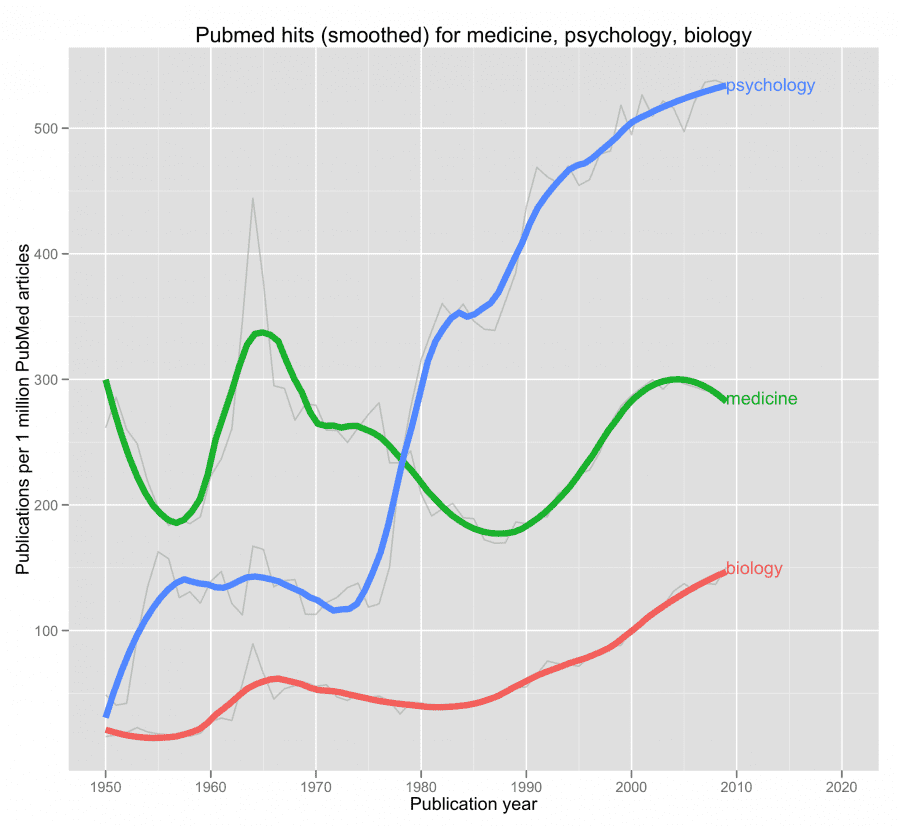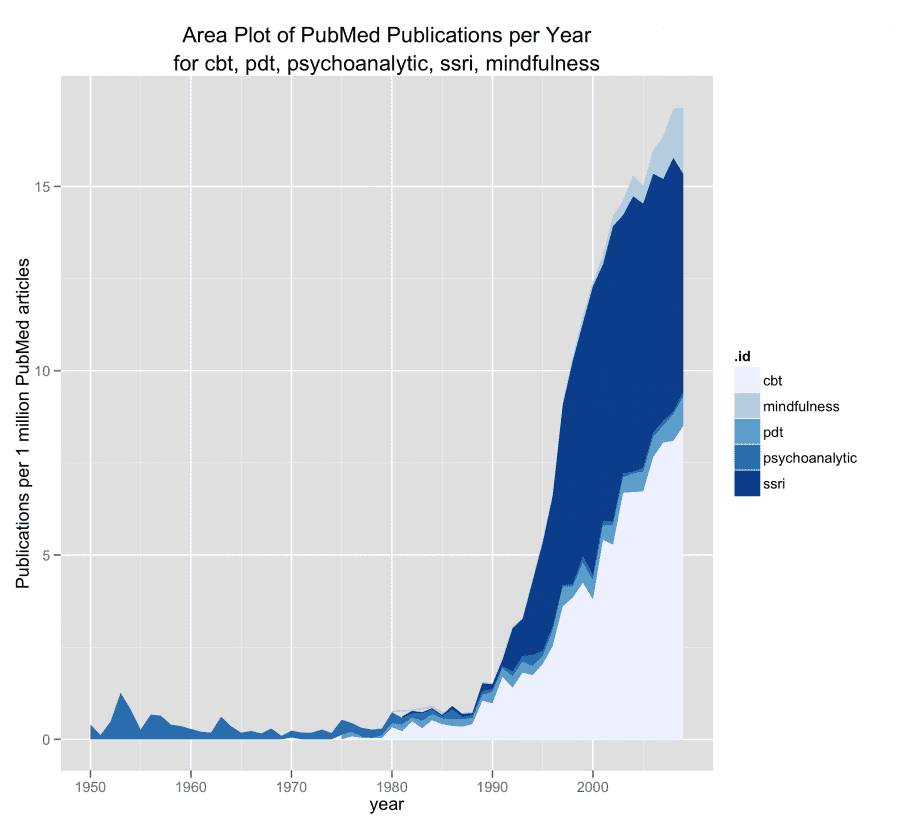 When searching a progress bar will show the progress, and the search will look like this once completed.
Using the function to get total hits, will give this output
A few words on usage guidelines
In PubMed's E-utilities usage guidelines it's specified that:
In order not to overload the E-utility servers, NCBI recommends that users post no more than three URL requests per second and limit large jobs to either weekends or between 9:00 PM and 5:00 AM Eastern time during weekdays. Failure to comply with this policy may result in an IP address being blocked from accessing NCBI
To comply with this my script will wait 0.5 sec after each iteration resulting in (theoretically) 2 URL GETs per second. This means that searching for 100 yearly counts will take a minimum if 50 seconds for each query. You can change the wait time if you feel that 0.5 sec is too low or too high.
And here's the R code to look at PubMed trends
Update (2013 August 2): I am currently updating this script and moving it to a GitHub repo, so it will be easier to maintain. You can find the repo here.
And some example ggplot2 codes
---
---
Published April 19, 2012 (View on GitHub)
Buy Me A Coffee
A huge thanks to the 119 supporters who've bought me a 268 coffees!
Sponsors
You can sponsor my open source work using GitHub Sponsors and have your name shown here.
Backers ✨❤️
Questions & Comments
Please use GitHub Discussions for any questions related to this post, or open an issue on GitHub if you've found a bug or wan't to make a feature request.
Webmentions
There are no webmentions for this page
Archived Comments (38)
Hi,
Great script but I can't run it
It appears this error. Can you help me? Thkx a lot
df <- PubMedTrend(query)
Searching for: medicine[tw]
| | 0%Space required after the Public Identifier
SystemLiteral " or ' expected
SYSTEM or PUBLIC, the URI is missing
Error: 1: Space required after the Public Identifier
2: SystemLiteral " or ' expected
3: SYSTEM or PUBLIC, the URI is missing
hkbob
Having the same problem...was solved by changing the URL in the retrieval loop to include https instead of http.
Hello Kristoffer i am trying to use your code to extract the # of citation from a lot of articles in PubMed but i get this error
""Error in function (type, msg, asError = TRUE) :
SSL certificate problem: unable to get local issuer certificate""
Maybe you could help?i dont have any idea what this error is,although i search it on the WEB
thnx in advance
Thank you, this script is great!
I had one problem with it however: Line 62, where you load total_table.csv
You wrote
tmp <- getURL("https://raw.github.com/rpsy...")
but for me this only returned an emtpy character ""
What worked is changing the URL to
tmp <- getURL("https://raw.githubuserconte...")
If I missed something: sorry! If not, it might reflect an internal change at github and you might want to update the file.
All the best,
Florian
Hi Kristoffer,
very nice script, however it does not seem to work for me. I tried several queries but they never work. Always the same error, see below. The debug does not point to a specific line so I have no clue where to start. Maybe you have suggestion? All packages are up to date.
> source("PubMedTrend.R")
Loading required package: RCurl
Loading required package: bitops
Loading required package: XML
Loading required package: plyr
> query <- c("biology" = "biology[tw]")
> df <- PubMedTrend(query)
Searching for: biology[tw]
|=======================================================================================================| 100%
Error in read.table(file = file, header = header, sep = sep, quote = quote, :
no lines available in input
Called from: read.csv(text = tmp)
Browse[1]>
Morning Kristoffer, I need a Pubmed count done on publications on QEEG and ERP in the past 10 years with a graph. I have one, but do not know where the author got it or how to reference as it is from the user group Facebook page and not an academic resource. Could you pls assist. Perhaps if you draw up a new similar statistic for me you could assist in how to reference it correctly. Hope I am understanding correctly what you do and that you can assist in this for me. Pls let me know if I needed to compensate you. Your work is really interesting and of huge use.
Hi,
thanks a lot for this function.
I tried to run it, but encountered this error
df <- PubMedTrend(query, 1990,2005)
Searching for: medicine[tw]
|======================================================================| 100%
Searching for: psychology[tw]
|======================================================================| 100%
Searching for: biology[tw]
|======================================================================| 100%
Error in match(df$year, total.table$year) :
object &#039total.table&#039 not found
Do you have an idea why that is?
Thanks a lot,
Best,
JR
Kristoffer Magnusson
The script didn't find the total.table file. I've updated the script to avoid this problem. Now it'll download the total.table data-file from my GitHub repo.
Hi, great code. I am a bit confused though. You are calculating the number of publications per million by calculating the relative counts * 10,000. Is this not the number of publication per 10,000 or am I not getting the point?
Kristoffer Magnusson
You are absolutely right. Thanks for notifying me. Must have been tired when wrote that :). I've changed the function so it'll return the relative counts as percentages. I figured it's better to do any computations outside the main procedure, if it's needed.
Great script, thanks for writing it! One caveat I noticed when I was running/modifying it. I was searching for a count of "Dangeardiella macrospora". The API call (no years) shows that there are 109 hits:
http://eutils.ncbi.nlm.nih....
*but*, searching at PubMed shows that the search result should actually be zero (since "Dangeardiella" is not found in PubMed, they conveniently just discard that search term):
http://www.ncbi.nlm.nih.gov...
To ask that PubMed not discard terms, you need to append "[All fields]". For example:
http://www.ncbi.nlm.nih.gov...
http://eutils.ncbi.nlm.nih....[All%20fields]
Hope that's helpful!
Kristoffer Magnusson
Thanks for posting this Andrew! I've opened an issue regarding this on my github repo. I will look into it when have some time over.
Nice one Kris,
I am puzzled as to why the total counts for 2011 onwards to 2013 are NAs I cannot find any fault in the code and my system date is on the correct year! so for example if I query for 2009 to 2012 I get:
.idyearcounttotal_countrelative
1App20091507786831.9263295
2App20101696800982.4849360
3App2011 166NA NA
4App2012194NA NA
5Rev2009147786830.1797907
6Rev2010216800980.3087790
7Rev2011 31NA NA
8Rev201223NA NA
Kristoffer Magnusson
Hi Andrews, the script didn't include total values for 2011 onwards. The totals were fetched from this table http://www.nlm.nih.gov/bsd/.... It's been updated now, and so has my script.
Great piece of code. I am trying to extend the publication year range from1970 to 2012 but the total_table only goes from 1947 to 2009 (as commented in your code), correct?
Is there a way I can download or update the table to include 2012?
Amazing. I'm wondering how it might be applied to ProMED-mail archives now.....
In the meantime, however...a much easier problem. How would one plot the data with a log2 y-axis? I'm finding the learning curve for gglot2 is much steeper than that of R itself....
Kristoffer Magnusson
Hi Robert. Did you figure out how to plot the data with a log2 y-axis? If not, you can use something like this: scale_y_continuous(trans=log2_trans()), this is using the log_trans from the "scales"-packages, so you need that package loaded.
Very nice, any plans to post it as a package on CRAN?
Kristoffer Magnusson
Hi Ricardo, maybe In the future, but it's not really something I've thought about!
Whilst I actually like this publish, I believe there was an spelling error near towards the finish of the third section.
Kristoffer Magnusson
Thanks for notifying me, it's been sorted!
I get this error after it has finished searching when trying to run your script (using rstudio):
Error in readChar(con, 5L, useBytes = TRUE) : cannot open the connection
In addition: Warning message:
In readChar(con, 5L, useBytes = TRUE) :
cannot open compressed file 'total_table', probable reason 'No such file or directory'
Any idea what is going on?
Hugo
I get a similar area in that it can't find 'total.table', have redownloaded, tried to rename total.table to total_table...
Using Mac OS X 10.8.4
Dani
Kris,
thanks for sharing this script. It's exactly what I was trying to do, with a lot of pain.
However I don't find any file other than PubMedTrend.r and I get the same error as Wouter. Also, I don't find RunPubMed.R mentioned by Michael MacAskill.
I assume both come from the same zip file, but where is the link ?
Cheers
D
Kristoffer Magnusson
Hi, Dani. I have moved everything to moved the script over to GitHub so you should find everything here.
Works brilliantly, in a different league performance and reliability-wise compared to RISmed.
One possible error in line 28 of RunPubMed.R
Should:
df.hits <- PubMedTrend()
actually be:
df.hits <- PubTotalHits()
Cheers.
Kristoffer Magnusson
Glad you liked it! You are correct about the error on line 28, thanks for spotting it!
Hi Kris,
Thank you for this fine and incredibly useful script.
Unfortunately it does not work with the recent version R (2.15) since some interfaces seem to have changed. When running the example script I receive an error message which seems to distresst already some R users:
> source("PubMedTrend.R")
Error in source("PubMedTrend.R") :
7 arguments passed to .Internal(identical) which requires 6
http://r.789695.n4.nabble.c...
Since I am not too experienced yet, I do not have an idea which of the function calls .Internal() . If you have a guess and give a hint I would try bugfixing.
Best regards,
Robert
Kristoffer Magnusson
Hi Robert,
Unfortunately I couldn't replicate you error on R 2.15.0. Are you using the latest versions of "plyr", "XML" and "Rcurl"?.
I'm not explicitly calling .Internal in my script, but you could try running traceback() to get some more information on the error.
Robert Adams
Hi Kris,
Strangely, it seems that neither your script nor R itself is the troublemaker but RStudio - sorry for not mentioning the use of an alternative editor first. Due to the above given link I thought that the error ist related to the updated version of R.
When directly inputting your script into RStudio (by loading -> Strg A -> Run) everything works well and the given examples are executeable.
When loading your script with source followed by traceback():
> source("PubMedTrend.R")
Error in source("PubMedTrend.R") :
7 arguments passed to .Internal(identical) which requires 6
> traceback()
2: source("PubMedTrend.R")
1: source("PubMedTrend.R")
Nevertheless, using the native R console no error is thrown even when loading the script with source().
Sorry for the confusion and thank you again for providing the code!
Kristoffer Magnusson
Thanks for posting your solution, I'm glad you got it to work. It's strange though, it runs just fine in RStudio for me.
Thanks for sharing Kris, particularly since the code even includes thoughtful validation checking!
Looking forward to trying this out, but will be a few days I think. An advantage of the RISmed approach was that (when it worked...) entire records were returned. This meant that further analyses could be done, above just the simple raw counts (e.g. examining trends within a particular journal). I'll be happy to at least get reliable count data, but does this method lend itself to getting individual record-level information as well?
Cheers,
Michael
Kristoffer Magnusson
It's possible to extend this method to download complete records in XML. This script actually started out with that functionality, but it seemed a bit unnecessary to download the complete records when I mostly wanted to look at yearly counts.
I will release a version of my script that will download complete records, I only need to add a function to batch download articles, since PubMed has got a retrieval cap of 10k articles.
Thanks for commenting,
Kris
---