Interpreting Confidence Intervals – new d3.js visualization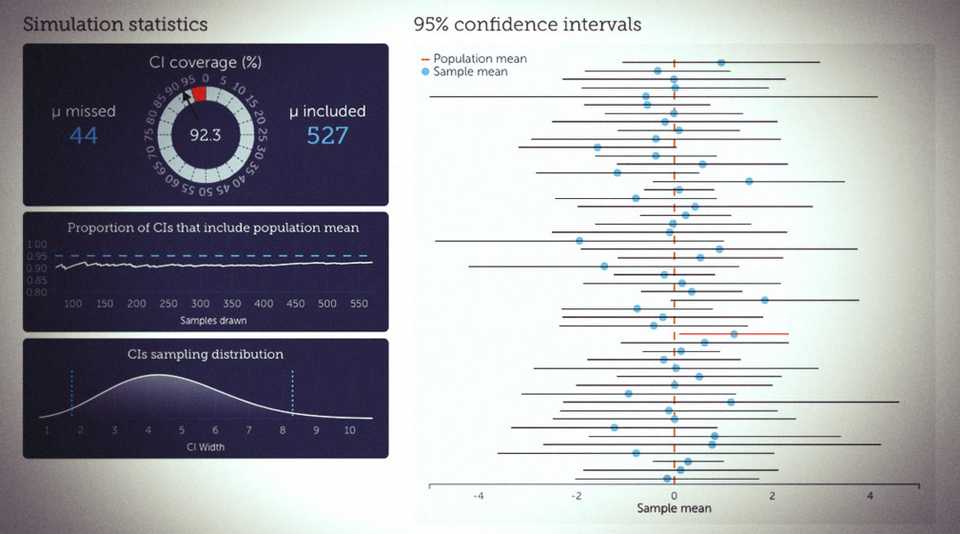 I just published a new interactive visualization in my series of basic statistical concepts and techniques. This time I have tried to explain confidence intervals for means. This visualization shows a simulation of repeated sampling from a normal distribution with mean zero and a standard deviation of two. I also show the sampling distribution of the width of CIs, which follow scaled chi-distribution. You can change the confidence level and sample size to see how the CIs change.
Check out it here: rpsychologist.com/d3/CI/
---
---
Published November 28, 2014 (View on GitHub)
Buy Me A Coffee
A huge thanks to the 100 supporters who've bought me a 225 coffees!
Sponsors
You can sponsor my open source work using GitHub Sponsors and have your name shown here.
Backers ✨❤️
Questions & Comments
Please use GitHub Discussions for any questions related to this post, or open an issue on GitHub if you've found a bug or wan't to make a feature request.
Webmentions
There are no webmentions for this page
Archived Comments (1)
Thank you very much for this visualization! Very helpful in understanding the misconception that accompanies confidence interval. Is it possible for you to provide additional commentary/explanation on what is going on in the visualization? I think this would definitely be very helpful for questions like these: https://www.quora.com/Why-d...
---