Short R script to plot effect sizes (Cohen's d) and shade overlapping area
Update: I have created an interactive effect size visualization here
Introduction to effect sizes
Many times you read in a study that "x and y were significantly different, p < .05", which is another way of saying that "assuming that the null hypothesis is true, the probability of getting the observed value simply by chance alone is less than 0.05" But that's not really that interesting, though is it? Say you are reading an intervention study that are comparing a treatment group to a control group, I bet you are more interested in finding out the amount of difference between the groups, rather than the chances of the differences popping up under the null hypothesis. Luckily it's getting more and more common to also report effect sizes in addition to p-values. Effect sizes, in this case, are metrics that represent the amount of differences between two sample means. One of the most common effect size measure in psychology is Cohen's d or the standardized mean difference. As you can see by the name it's a measure of the standardized difference between two means. Commonly Cohen's d is categorized in 3 broad categories: 0.2–0.3 represents a small effect, ~0.5 a medium effect and over 0.8 to infinity represents a large effect. What that means is that with two samples with a standard deviation of 1, the mean of group 1 is 0.8 sd away from the other group's mean if Cohen's d = 0.8. That might sound very intuitive to some, but I find it's more explanatory to present different d values visually. Which is really easy to do in R statistical software.
Some quick R code to visualize Cohen's d
The thing I actually wanted to try out here was to shade the overlapping area of the two distributions. It turned to be pretty easy to do in R.
And some plots of the different effect size values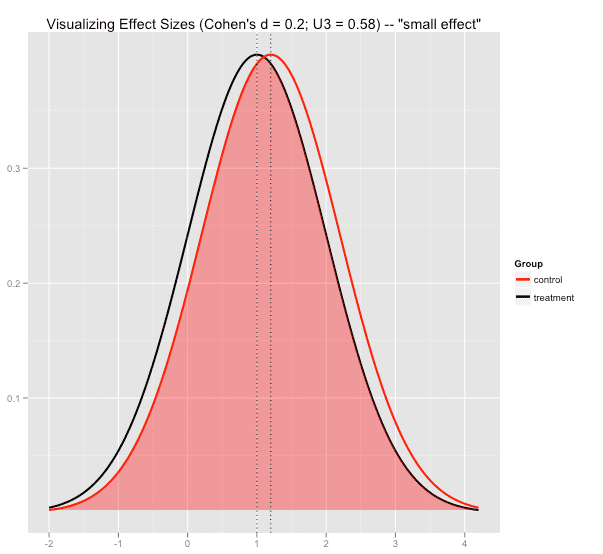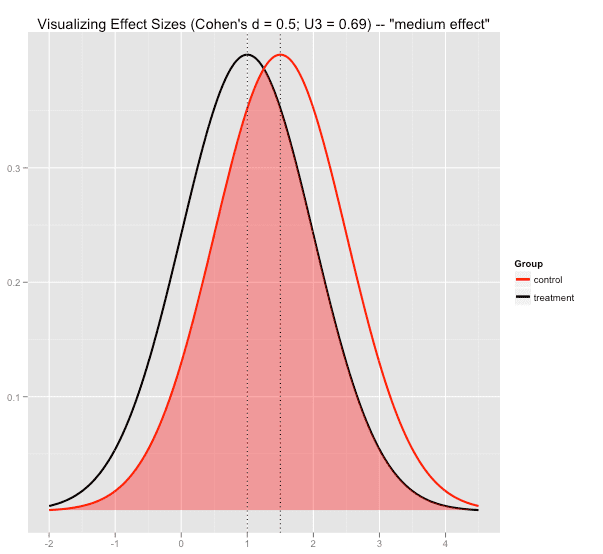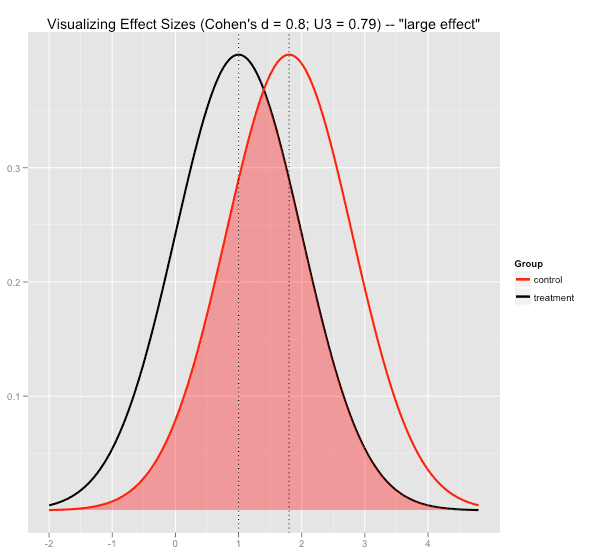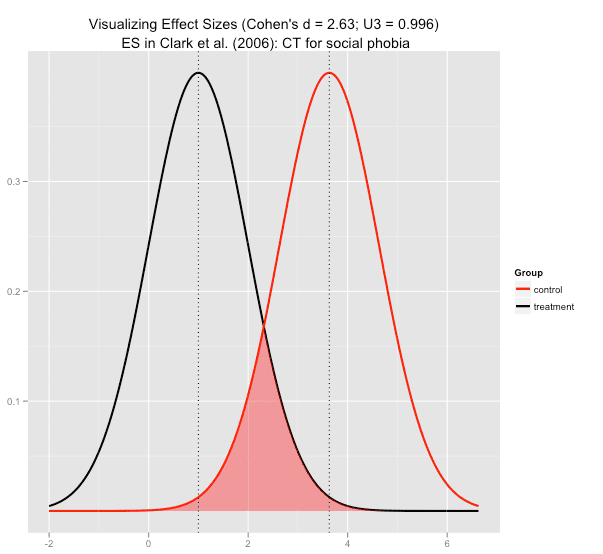 A "large" effect size really look insignificant compared to the ridiculously large effect size reported by Clark et al. (2006) in their study Cognitive Therapy Versus Exposure and Applied Relaxation in Social Phobia: A Randomized Controlled Trial
---
---
Published April 23, 2012 (View on GitHub)
Buy Me A Coffee
A huge thanks to the 119 supporters who've bought me a 268 coffees!
Sponsors
You can sponsor my open source work using GitHub Sponsors and have your name shown here.
Backers ✨❤️
Questions & Comments
Please use GitHub Discussions for any questions related to this post, or open an issue on GitHub if you've found a bug or wan't to make a feature request.
Webmentions
There are no webmentions for this page
Archived Comments (5)
Graphs are yours or from another author?
These are very useful visuals. Thank you for sharing them!
Outstandind!
Thank you! I have wrapped this script in a function and I show it on my R course for undergrads students.
Hi Kristoffer,
I am Sithara from India, just completed my master of public health from Kerala, India. I am very much passionate about new things in R. The details in your blog regarding effect size gives and understanding about bothe topic and the functions in R.
Thank you so much!
Keep up the good spirit
Expect new posts.
Bookmarking! As an I/O practitioner I usually run into trouble when presenting this kind of information to clients. This looks like it could help out!
Thanks and keep up the good work!
---